Various festivals are celebrated in India to welcome the monsoon. Rain is the primary necessity for agriculture. Without rain, crops can't grow. So, in the agriculture-based country like India, monsoon brings happiness. Teej is also a festival to welcome the monsoon.
Where Haryali Teej is celebrated
It is mainly celebrated in northern states including Punjab, Haryana, Chandigarh, and some of the western states like Rajasthan. Teej is of three types. They are Kajari Teej, Hartalika Teej, and Hariyali Teej.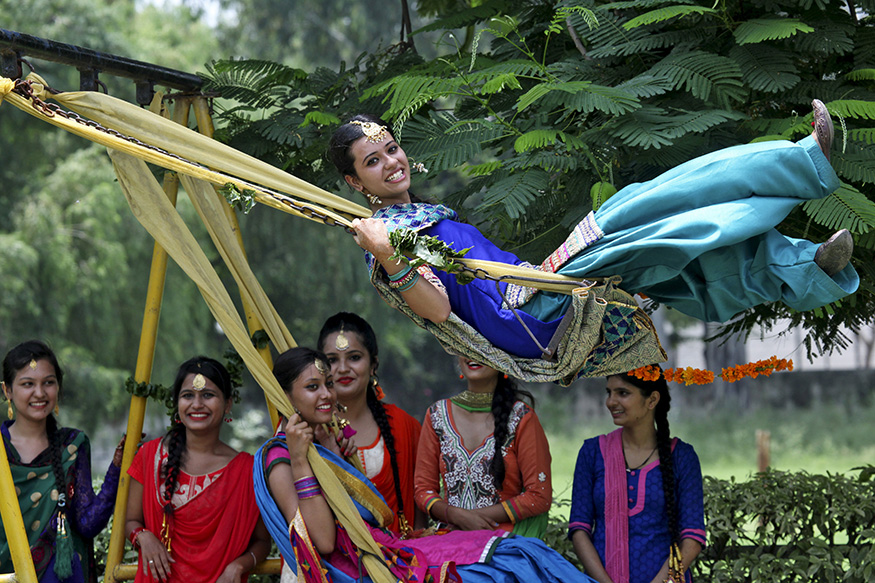 Myth behind the festival
Hariyali Teej is mainly a ritual performed by married women. The date of this festival is the third day of the bright half of the Shravan month. The myth is that this is the day of the reunion of Lord Shiv and Parvati. Parvati kept a long fast to be accepted by Lord Shiv as his wife and on this day of Parvati's 108th birth, that finally happened. Shiv and Parvati symbolize the ideal love relationship. That's why married women on this day keep fast, offer bhog, red flowers, and solah shringaar to Lord Shiv and Goddess Parvati to get blessed with long and happy married life.
Tradition of Teej
This festival is a completely traditional one with traditional songs, clothes, mehndi, and bangles. Women mostly wear green clothes in Hariyali Teej as Hariyali means greenery and in monsoon the nature becomes green. Women do solah shringaar also to celebrate this festival. These clothes, mehndi, bangles and some food are gifted to married women as a part of ritual from their parental home.
How it is celebrated
In rural areas, women wander around to enjoy monsoon season. They have a ritual of playing on swings on this day. Kites are flown too by young boys. In towns and cities, this festival is organized in particular places and people gather there. Praying for good production of crops and happy family life is the ultimate purpose of this festival, celebrated with song, dance, and worship.