In the many roles Shri Krishna adorns in his life, the form of being a friend to all his dear ones and helping them bail out the adversities of life is one of the most cherished one. During his days in Vrindavan, he was the best friend of all the cowherds of Vrindavan. He spent his days grazing the cows, stealing butter and sharing it with his friends and playing the divine flute immersing entire Vrindavan into happiness. Celebrating his pure virtue of friendship, a temple stands unique dedicated to the friend in him, and his friendship with Sudama, his Gurukul companion.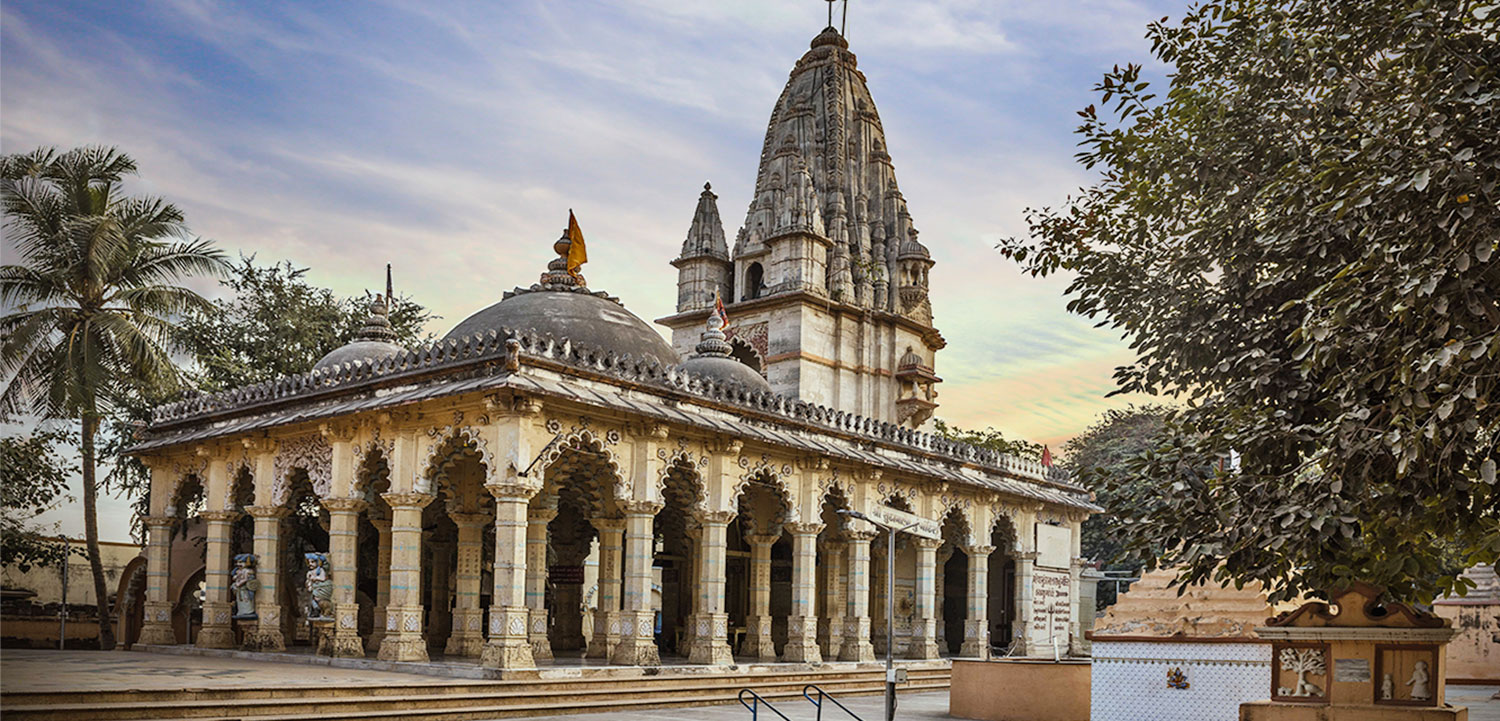 It was in the Gurukul Ashram of Rishi Sandeepani that Shri Krishna and Balram met Sudama, a poor Brahmin boy. Both Sudama and Shri Krishna spent their entire time together in the Ashram gaining knowledge and helping their Guru in the chores of the Gurukul. Both of them enjoyed each other's company with great fun and happiness. After their Gurukul training was over, although they separated on their own paths, Shri Krishna and Sudama never forgot their friendship and kept each other in their hearts.
In the later years, Sudama suffered with great poverty. Unable to bear the hardships, Sudama's wife requests him to ask the help of Shri Krishna. Initially Sudama disagrees because of his modesty, but finally agrees to his wife's request. Not wanting to go empty handed, he takes a little of flaked rice (poha) which was the only thing available with him and reaches Dwaraka.
Sudama is stunned to see the magnificent Dwaraka, but hesitates to go inside because of his rags. But he is surprised when he sees Shri Krishna rushing to greet him. Shri Krishna offers great hospitality to Sudama which makes Sudama lost for words. Then Shri Krishna asks him that what Sudama got for him. Sudama is reluctant to give him the Poha, but Shri Krishna is more than happy to see that his friend got his favourite food and eats the Poha with pleasure. Sudama is overwhelmed at the simplicity of Shri Krishna who honours friendship above all inequalities of rich and poor, high and low, king and a common man.
When Sudama returns to his home, cherishing Shri Krishna's friendship, he is in for a big surprise when he sees a huge palace in place of his poor hut, his wife and children decked with jewellery and beaming with happiness. Sudama understands that Shri Krishna has given him everything making Sudama free of poverty, as an unconditional gift of true friendship.
The Sudama temple in Porbandar, stands as a mark of respect towards this eternal bond of friendship. This temple built in white marble inspires mankind to nurture friendship as Shri Krishna and Sudama did. The temple was built by Shri Ram Devji Jethwa around 1902 – 1907 A.D. The temple has images of Shri Krishna washing the feet of Sudama as a mark of his pure friendship. The temple has built many corridors which are reflections of the many challenges of life through which one passes and with the help of a trusted friend like Shri Krishna emerges fruitful in life like Sudama.