While depicting the beautiful relation of a husband and a wife, The Ramayan teaches the understanding, love, care and affection which are necessary to make the bonding of a couple strong. The relations of the husband and a wife gets highlighted not only because of their love and affection on each other, but also for fulfilling their responsibilities for the sake of Dharma
Shri Ram and Mata Sita – It was love at first sight, yet they chose to give first preference to their elder's word and Shri Ram won the challenge and with all due respect won his beloved's hand. In Ayodhya, they were a treat to all hearts and eyes with their charm and adorable care for each other. Not only in good times, but they stood together in adversities defining the true strength of their love. While Mata Sita accompanied Shri Ram to the forest bare foot leaving all comforts of a princess and fulfilled her duty as a devoted wife, Shri Ram expressed his infinite love on Mata Sita by going in search of her, build a mighty bridge, kill the invincible demon Ravan and gain back her respect and honour when she was abducted by Ravan. Shri Ram and Mata Sita teach us that true love becomes the greatest bonding in all times.
ImageSource
Maharaj Dasarath and Kaushalya – Although Queen Kaikeyi was the pampered queen of Maharaj Dasarath, none understood him as Queen Kaushalya. She treated Kaikeyi and Sumitra as her own sisters and never showed any authority as the principle queen and helped Maharaj Dasarath build strong family bonds. She understood his duties as a king when he sent young Shri Ram and Lakshman along with Rishi Vishwamitr to fight ferocious demons like Marich and Subahu. She suffered the most when Shri Ram was sent to exile by Kaikeyi for no fault of his, but stood alongside Maharaj Dasarath to uphold his promise and righteousness. She stays on her word even after his death and lets Shri Ram walk on his path of Dharma instead of asking him to come back to Ayodhya with Bharat. Maharaj Dasarath always understood the calm and silent nature of Queen Kaushalya and regarded her as the most matured of all and credited her for the good upbringing of all his four sons. Maharaj Dasarath and Kaushalya prove that adjustments in a family are not done to bring  gaps, but to make the family more close and together.
ImageSource
Lakshman and Urmila – Urmila knew with all her heart that Lakshman devoted his life to the service of Shri Ram, and yet never complained about it and supported her husband in the same. They never were open about their relation, but stood for each other in all times. When Lakshman asks Urmila to stay back in Ayodhya and take care of the family, Urmila hides her pain of separation with Lakshman and devoted herself to take care of her mother's-in law and give them solace. Lakshman and Urmila make their bond stronger by their selfless sacrifice and servitude and give happiness to their family by their unconditional love. One learns from them that one can stay together even when separated with trust and conviction on each other.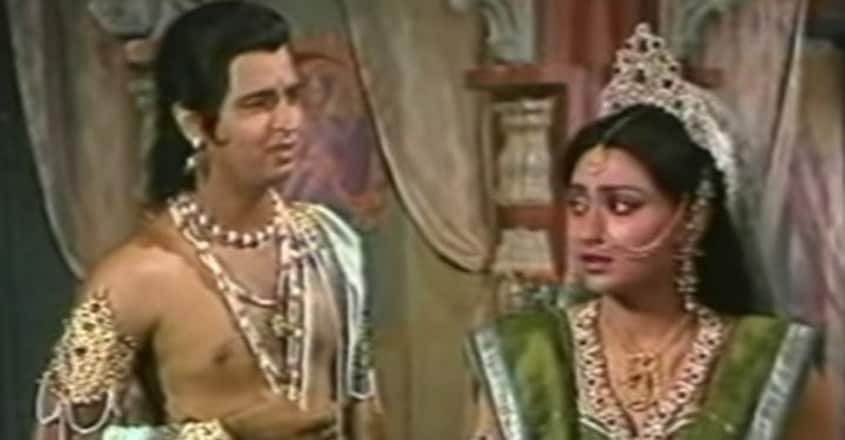 ImageSource
Although they never spoke volumes of love and affection on each other, but simply gave their best to make their relation strong with sincerity and trust and that's what makes them the most adorable couples of the Ramayan.