Once Shri Ram itself mentions that he is incomplete without Lakshman. Such is the love Shri Ram had for his dear younger brother Lakshman. The brother like none, he was deeply attached to Shri Ram. Both the brothers strive for Dharma, and were always together. The beautiful thing was that Lakshman had a different perspective of Dharma, yet was devoted to Shri Ram. For Lakshman, the idea of Dharma was to keep Shri Ram happy and fight for his brother' cause and he was dear to Shri Ram for many reasons which reflected his service virtues.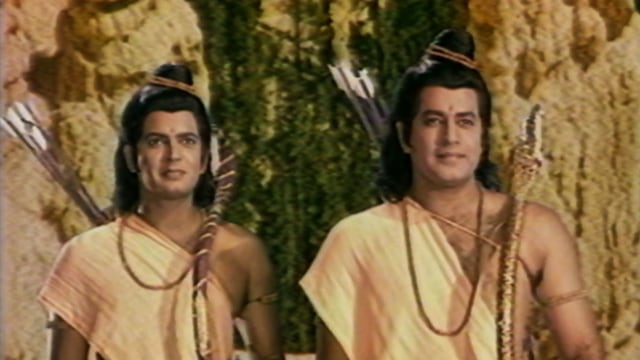 Selfless Service – Rishi Vishwamitr asks Maharaj Dasarath to send Shri Ram with him, but Maharaj Dasarath requests the Rishi that Lakshman would accompany Shri Ram as both were never apart from each other. While Shri Ram is busy learning the divine weaponry craft from the Rishi, Lakshman dutifully serves Shri Ram. Pleased with his devotion towards his brother, Rishi Vishwamitr teaches him the Bala and the Atibala mantras to Lakshman along with Shri Ram by which one does not suffer from hunger or thirst. These mantras were helpful to Lakshman during their exile period where he could serve Shri Ram without hunger and thirst.
Concern for Shri Ram – Known for his quick temper, Lakshman is furious that Shri Ram has been banished to the forest and seeks permission of Shri Ram to revolt. However, when Shri Ram says that Lakshman's actions would cause pain to him, he simply stops. When Shri Ram explains that sacrifice is greatest Dharma of all, he not only obliges his brother's word, but also follows him to the forest sacrificing his own personal life and comfort. Lakshman imparts a lesson that listening to elders is very important to get control over senses and anger, lest it leads to repentance in future.
Sensing good and bad – Lakshman serves Shri Ram and Mata Sita with utmost sincerity in their forest stay. When Mata Sita asks Shri Ram to get the golden deer, Lakshman warns against it as he senses danger. Lakshman's service is not just blind faith and he keeps an eye on the impending dangers and is cautious about them. This quality is utmost essential to understand that service is just not taking care of needs, but also to give wise advice and be protective too.
Giving hope – Even the mightiest persons sometimes loses strength and succumbs to grief. It becomes important that one lends them support and motivate them to get up and fight problems. When Shri Ram is filled with sorrow for Mata Sita's abduction, Lakshman motivates Shri Ram with lot of courage and instils hope in Shri Ram to search for Mata Sita. The hope of Lakshman teaches that even in the worst adversities, one should not lose courage.
No attachment to power – Lakshman dutifully fights the great battle of Lanka putting his life at stake and helps Shri Ram win the battle. However he does as his duty towards his brothers but never for his personal gain. When Shri Ram wants to install Lakshman as the Yuvraj of Ayodhya, He refuses and requests to install Bharat instead. At the time of the end of incarnation of Shri Ram, Lakshman sacrifices his life for Ayodhya and fulfils his life in the service of his brothers.
As a personification of service, Lakshman teaches that practising in what one believes, is the greatest Dharma. This is what made him the dearest to Shri Ram and made them two bodies, one soul for life.